Middlesbrough Transporter Bridge reopens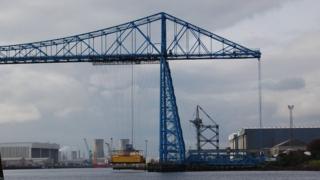 Middlesbrough's Transporter Bridge has reopened following a £4m revamp.
Refurbishment of the 104-year-old structure, which closed in August 2013, had been expected to last eight months.
However, a string of problems meant the reopening date was repeatedly put back and costs rose from £3.1m to £4m. The bridge reopened on Monday morning.
A spokesman for Middlesbrough Council apologised for the set backs and thanked users for their "patience and understanding" during the works.
Middlesbrough Council said for the first four weeks, crossings for drivers and foot passengers will be free of charge.
Work on a new lift and visitor centre at the site are expected to be completed by May.
The Grade II-listed structure, which opened in 1911, is one of only six of its type still operating in the world and the only one in England.