Dog Jed finds new home after being overlooked by 14,000 people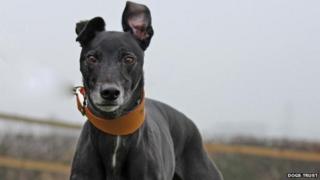 A dog that was overlooked by 14,000 potential owners has found a home in County Durham, the Dogs Trust has said.
Jed, a seven-year-old lurcher, had been with the trust in Sadberge, Darlington, on-and-off since he was four months old.
After they saw an appeal on the BBC website, Jed was given a new home by Ian Woodcock and Elizabeth Marsh.
The couple said he was settling in "really well" with the family and they "absolutely adore him".
The trust said he had been taken in by several families in the past but in each case, due to their circumstances changing, he had to be returned.
Jed now enjoys long walks on the moors, snoozing by the fire and helping Mr Woodcock with the gardening.
Mr Woodcock said: "We already can't imagine life without him.
"If dogs can have a sense of humour then Jed certainly has one, he is already very attached to my wife and I, and he likes to be with us all of the time.
"His new favourite trick involves moving his duvet in front of the door and falling asleep so that we can't leave the room.
"We are really looking forward to the future with Jed. After so long without a home we can't wait to make 2015 as special as possible for him."