Bridie Hope's delight over impact of middle ear implant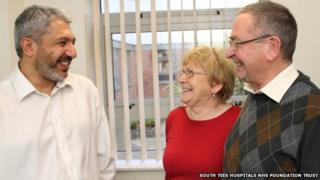 A 70-year-old woman from Teesside has spoken of her delight at regaining her hearing through a new type of implant.
Bridie Hope has been losing her hearing for 40 years but had it restored by a middle ear implant fitted at James Cook University Hospital, Middlesbrough.
The new implant is less invasive to fit than previous models and means patients can be released within 48 hours.
Surgeons said Mrs Hope was the first in the UK to be fitted with the new advanced model of implant.
Mrs Hope, from Thornaby, said: "I can't tolerate hearing aids so when this opportunity came along, I jumped at the chance.
"Now it's switched on and I can hear normally, I'm hoping that I don't have to ask everyone I talk to to repeat themselves.
"It got very embarrassing."
Magnet vibrations
Earlier this year the hospital became the first in the region to be commissioned to provide middle ear implants.
Previously patients had to travel to Manchester, Nottingham or Birmingham, but Ms Hope's implant is the first of the more advanced model to be used in the country.
A spokesman for the South Tees Hospitals NHS Foundation Trust said the new procedure was an advancement on previous technology as it requires less time to be spent in hospital.
Middle ear implants use a magnet to vibrate the structures of the middle ear.
The implant is fitted to a tiny bone in the ear and receives signals from a compact audio processor that sits behind the patient's ear.
Ear, nose and throat (ENT) consultant Anirvan Banerjee said: "Some patients are almost living in social isolation because they can't use their hearing aids but hopefully with this implant they will be able to enjoy life a lot more."