Benefits Street town Stockton-on-Tees turn 'positive'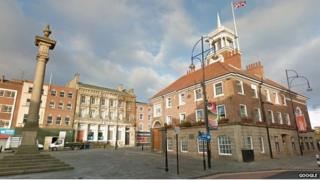 A town set to feature in the documentary series Benefits Street has launched a campaign to highlight its "positive" side.
News that the second series of the Channel 4 show was being filmed in Kingston Road, Stockton-on-Tees, initially sparked outrage.
But now campaigners are hoping to show the best sides of the Teesside town.
Stockton Council leader Bob Cook said they were "turning a negative into a positive".
---
The Stockton story
Stockton-on-Tees is home to more than 83,000 people
It is in County Durham although other smaller towns and villages in the Stockton Borough Council area lie in North Yorkshire
The town prospered in the 17th and 18th Centuries due to its shipyards, but when the industry left the town fell into a steep decline
Playwright JB Priestley lamented the loss of the shipyards when he visited the town in 1933, saying: "It is like a theatre that is kept open merely for the sale of drinks and chocolates"
In 1825, the world's first railway, The Stockton and Darlington Railway, was built connecting Stockton with Shildon for the transportation of coal
---
A new website and social media accounts have been set up to lead the "Psst" campaign.
The first series of the programme, filmed in Birmingham, attracted criticism for its portrayal of residents.
Labour councillor Mr Cook said: "We did everything in our power to persuade the producers of Benefits Street to turn their attentions elsewhere.
"Sadly, you can't win them all.
"We've come to the conclusion that the best way to respond to a series like Benefits Street is to celebrate, with good humour and quiet confidence, all that is great about our fine borough."
Mr Cook also said it was "arrogant" of Love Productions, the company filming the show, to claim it was giving the community a voice.
He said: "There's an abundance of community pride in Stockton-on-Tees - it's just not our style to go shouting it from the rooftops."
Love Productions and Channel 4 have previously said Benefits Street was aimed at sparking debate about important social issues.