England rugby's Katy Mclean wins BBC Sport Personality of the Year for the North East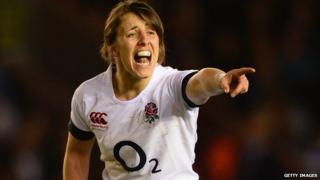 England's rugby world cup winning captain Katy Mclean has been named BBC North East Sports Personality of the Year.
The title was announced at the BBC North East Sports Awards at the Forum Theatre in Billingham on Wednesday.
Other winners included Sunderland Ladies FC, Paralympian Jade Jones and basketball coach Fabulous Flournoy.
Rowing coach Graeme Mark won the unsung hero award and will now go forward to the national awards.
About 600 people attended the awards night which was hosted by BBC Look North's Jeff Brown and BBC Tees' Ali Brownlee.
Ms Mclean from South Shields won the award for captaining England to World Cup victory in August.
---
Winners at the North east Sports Personality of the Year awards
Sports Personality of the Year: Katy Mclean
Jackie Milburn Award: Fabulous Flournoy
Disabled Sports Award: Jade Jones
Junior Sports Award: Simone Abbley
Sporting Inspiration: Wondiye Fikre Indelbu
Team of the Year: Sunderland Ladies FC
Performance of the Year: Richard Kilty
Unsung Hero: Graeme Mark
---
Mr Brownlee said: "Congratulations to all who won awards this evening with so many notable sporting men and women from across the North East and Cumbria.
"Katy Mclean, fly-half and captain of England's women's rugby team, is a very deserving North East Sports Personality of the Year after leading her team to a magnificent win over Canada at Stade Jean Bouin in Paris.
"Our region has a terrific sporting heritage, and a huge army of sports fans."
Mr Mark, from Brampton in Cumbria, has been involved in amateur rowing for more than 40 years and received his award for his contribution towards developing junior rowing and coaching crews at Talkin Tarn Amateur Rowing Club.
BBC Sports Unsung Hero is one of the categories at the BBC Sports Personality of the Year, which will be held in Glasgow on 14 December.
Fabulous Flournoy, coach and player at the Newcastle Eagles, received the Jackie Milburn Award, which honours the region's sporting greats.
The BBC North East Sports Awards are supported by Sport England, BBC North East and Cumbria, BBC Outreach and Stockton Borough Council.