Cleveland Police: Teesside force in Ohio confusion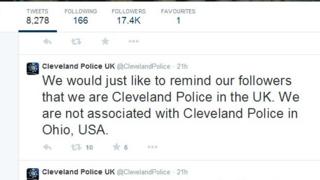 Cleveland Police reminded social media users it is a UK force after receiving messages about the death of a child in Cleveland Ohio.
Facebook and Twitter users contacted the Teesside force about the death of Tamir Rice, who was shot by police on Saturday.
Police in the USA say an officer fired two shots at the 12-year-old.
The UK force's road policing unit said it had also noticed a number of new followers from America.
'Warm welcome'
A Cleveland Police spokeswoman said: "We noticed a number of comments on social media regarding the recent events in Cleveland, Ohio.
"We posted a message to advise people that they were mistakenly contacting Cleveland Police in the UK and not Cleveland Police in the USA."
Cleveland Police Road Policing Unit said in a message on Facebook: "Our page insights show that that a lot of new followers from the USA have joined us in the last 24 hours.
"To clear any confusion this is the Facebook page for the Roads Policing Unit of Cleveland Police in the North East of England, UK.
"If you decide to stay anyway we extend a warm welcome and we hope you find our Road Safety information of interest."