PCC's complaint about Judge George Moorhouse goes to ombudsman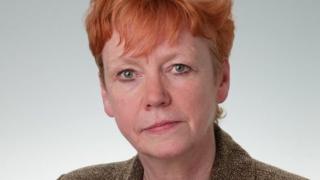 A complaint about a Teesside judge who spared a domestic abuser jail is being taken to the judiciary's ombudsman.
In September Judge George Moorhouse sentenced Anthony Bruce to 12 months suspended for a year, for an attack on his wife by biting and using a knife.
Three North East police and crime commissioners (PCCs) have now written to the Judicial Appointments and Conduct Ombudsman to complain.
The BBC has contacted Judge Moorhouse but has not so far received a comment.
Teesside Crown Court heard in September how Bruce, 34, bit and throttled his wife, held a knife to her throat and shot a pellet into her foot.
Women 'let down'
After his arrest, Bruce, from Chester-le-Street, phoned his victim warning her not to give evidence. He later pleaded guilty to witness intimidation and assault occasioning actual bodily harm.
Speaking previously, Northumbria PCC Vera Baird said the sentence failed to take into account the sentencing guidelines for domestic abuse.
"There are very clear guidelines saying in a case with domestic abuse it should be taken more seriously.
"At what stage does a judge who disregards these clear guidelines become a case of misconduct?"
Ms Baird and her opposite numbers in Cleveland and Durham, Barry Coppinger and Ron Hogg, wrote a joint letter to the Judicial Conduct and Investigations Office (JCIO).
They were subsequently told it could only investigate the judge's conduct, not his sentence.
The three PCCs are now taking their case to the Judicial Appointments and Conduct Ombudsman.
Ms Baird said: "It's like saying that a footballer can run the ball out of play, foul two players, be offside and still score a valid goal.
"We will see this case through to the end to get some satisfaction for the thousands of women who are let down, having been rightly encouraged by the police to report domestic violence, when judges free violent perpetrators and their victims are forced into hiding."
Ms Baird said she had been contacted about four other cases where Judge Moorhouse gave suspended sentences to perpetrators of domestic abuse.
The Crown Prosecution Service said its lawyers could challenge a sentence they considered unduly lenient but for Section 47 assault and intimidation offences "a referral would not be possible under existing legislation".
The Courts and Tribunals Judiciary stressed that judges cannot comment on individual sentences other than the explanation they give in court.