Connor Minto, 11, shot in head at football match with air gun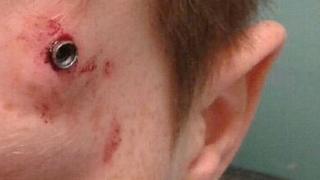 An 11-year-old boy was shot in the head with an air gun while he watched a football match in County Durham.
Police said Connor Minto was left with a pellet lodged near his eye after being hit during an under 12s match in Chester le Street.
Officers described the attack as "nasty" and said Connor had to have stitches after the pellet was removed.
Three 14-year-old boys have been arrested in connection with the attack and bailed.
'Felt blood'
It is believed an air weapon was used in the attack at Hermitage Academy on Saturday during a game between Chester-le-Street Town and Coxhoe.
Det Con Andy Froggatt, of Durham Police, said: "Connor was standing next to the nets with some other boys watching a nearby game when he felt what he thought was a stone hit his head.
"He ran to his dad because he could feel blood and his dad could see that a .22 pellet was lodged in Connor's forehead just above his left eye.
"The photos clearly show how nasty the injury was, but it could have been much worse if the pellet had hit Connor's eye.
"Thankfully Connor is recovering well now, but he was extremely upset by what happened."