Helen Louise Turnbull trial: Father's fury at son's 'lover'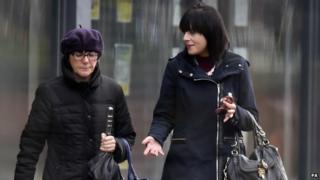 A father has told a court he furiously confronted a teaching assistant in his street after he found out she had sex with his teenage son.
He called Helen Louise Turnbull a "paedophile" and said he would have hit her had she been a man, Teesside Crown Court heard.
The 35-year-old is accused of having sex with the boy, 16, and having sexual contact with him another two times.
The mother from Haswell, County Durham, says they went no further than kissing.
'Shooting threat'
She admits one count of sexual activity with a child by a person in a position of trust, but denies three other charges.
The father said he found out about the relationship from the boy's brother and told the police and the school.
The teenager was "scared to death" after a threat she made about having him "shot" by a local family when their affair cooled, the father said.
He said he reassured his son by following in his car as he walked to school with friends.
When he drove home, he spotted Ms Turnbull, known at school as Miss Robson, parked in the street.
'Boasted to friends'
The court heard he shouted at her in front of neighbours: "You are a paedophile and if you had been a man I would hit you, but I'm not going to jail for someone like you."
He said she was wearing a "ridiculously short" dress and a "full face of make-up".
Earlier the boy told the court he and Ms Turnbull each broke their agreement to keep the affair secret.
He boasted to his friends about having sex with the literacy assistant in what he called "lads' craic", while she told one of her friends, he said.
But he said he felt "embarrassed and disgusted" when his father found out.
The trial continues.