Crathorne Hall hotel to reopen following 'dead flies' fire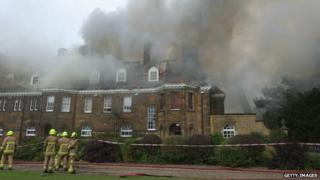 A Grade II listed hotel which was damaged in a fire believed to have been started by dead flies is to reopen.
Crathorne Hall in Yarm was badly destroyed by the blaze on 1 October, which started in the roof space of the east wing.
General manager, Peter Llewellyn, said after a month of repairs the hotel would be operational again from Monday.
He said staff at the hotel were "very moved" by the "sympathy and warmth" and support from the local community.
An investigation by North Yorkshire Fire Service found the fire was started accidentally.
The fire service said the "most probable cause" was smouldering flies from an electrical fly killer dropping onto flammable material below.
As a result of damage to the popular wedding venue, a number of couples were forced to rearrange their nuptials.