Tattooed teaching assistant Charlotte Tumilty considers laser removal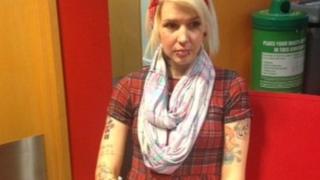 A trainee teaching assistant sent away from a school placement because of her tattoos has said she would consider having some of them removed.
Charlotte Tumilty was told by St John Vianney's RC Primary School, in Hartlepool, that the tattoos on her hands and neck were not appropriate.
The school said she was "asked to consider how best to cover up".
The 26 year old said she would have the tattoos on her hands removed if it would improve her job prospects.
Ms Tumility also has tattoos on her arms, legs and feet, as well as piercings on her face and ears.
'Code of conduct'
She told BBC Tees: "I turned up smartly dressed as I was told to. I took my piercings out, wore a blouse, trousers and shoes to cover my tattoos.
"I was pulled into the office and told maybe my look would be accepted somewhere else - just because my knuckles and a bit of my neck was on show.
"I had a high-collar top on, but when I move my head around you can see [my tattoo].
The school said it "expects all members of staff to project a professional image".
A statement said: "We have a code of conduct, part of which requires members of staff with tattoos to cover them up.
"Ms Tumilty was politely asked to consider how best to cover up her tattoos and it was suggested she should begin her placement later in the week.
"At no point was she told that she could not work in the school."
The mother of two, who has had tattoos since she was 17, said she was unlikely to return to the school following media coverage, but was considering laser removal for the tattoos on her knuckles.
She said: "If it means me working and getting a job to provide for my family then I will do whatever it takes."