Middlesbrough mayor proposes cutting 220 jobs and £14m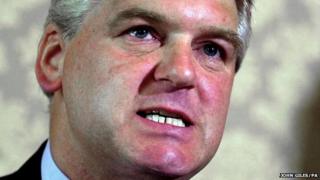 More than 200 jobs could be lost at Middlesbrough Council next year as it tries to axe £14m from its budget, the mayor has said.
Ray Mallon set out the latest budget proposals as the council strives to slash £77m by 2020.
He said many of the 220 jobs proposed to be cut would be from back offices.
The latest plan comes after hundreds of jobs were axed at the council in last year's budget.
Mr Mallon said more than £2m would be saved by investing in computers to do large parts of the authority's back office work.
He said: "If we actually take out back office people and automate things, then you protect the front-line services and that's what I'm trying to do."
'Stark austerity'
Mr Mallon is also proposing handing out management and responsibility of the council's sports and leisure facilities to an external trust saving £430,000 a year.
A number of private contracts to provide children's residential services would also be terminated which will save in the region of £200,000 a year.
The council will also reduce its grant funding for the MIMA Art Gallery by £410,000 a year.
Ray Mallon confirmed to BBC Tees that he intends to step down next year, effectively making this his last budget while in charge of the council.
But he denied his term in office had been a failure.
He said: "At the end of the day the choices are very stark because of austerity.
"This job is about being popular or doing what's right, and that's leadership and I do know what leadership is all about."