Newport Bridge: Bill for Stockton to Middlesbrough bridge repairs rises to £4m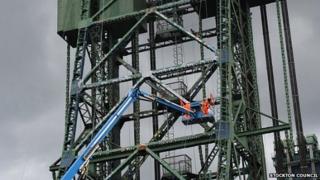 The cost of repairing a corroding bridge has spiralled to £4m.
Stockton Council estimated fixing the 80-year-old Newport Bridge across the River Tees would cost £1.6m, but that figure has more than doubled.
A spokesman said despite the damage being worse than originally thought, it would reopen the bridge soon.
Engineers will repair thousands of metres of corroded metal using a specially-constructed tunnel while the A1032 reopens to traffic.
The Grade II-listed bridge linking Stockton and Middlesbrough has been shut since July, but the council said it did not want to keep it closed for much longer and that engineers would work around commuters.
Stockton Council's cabinet member for regeneration and transport, Labour's Mike Smith, said: "The amended project will see a large tunnel-style scaffold constructed which will allow the A1032 to fully reopen so motorists can use the road while the remaining repairs and painting take place.
"It would be counter-productive to carry out a quick 'patching-up' exercise as this would result in us having to re-close the bridge to carry out more extensive works in a couple of years.
"We have committed £4.1m to pay for the revised programme so that motorists can use the road while the works take place."