Pitmen Painters play funds Woodhorn Museum gallery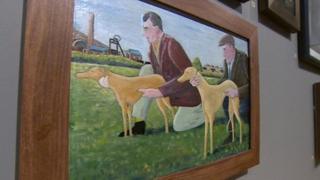 A Northumberland museum gallery dedicated to pitmen painters has undergone a refurbishment thanks to the success of a play about their lives.
The gallery at Woodhorn Museum has been revamped and visitors can now watch rare footage of the painters at work in the 1970s.
The work has been made possible thanks to the international success of writer Lee Hall's play, The Pitmen Painters.
The painters were a group of miners who got together in 1934 to study art.
Over the next 50 years they painted pictures representing their own lives.
Woodhorn director Keith Merrin said: "People now come from all over the world to see this remarkable collection of paintings so we are thrilled to be able to make their visit even more interesting, and memorable.
"The refurbishments have been paid for in large part by royalties generated from use of images of the paintings in the various successful productions of the play."
The Arts Council England also helped fund the revamp.