Hartlepool man has knife attack jail term increased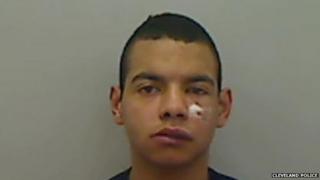 A man who stabbed a reveller in the neck outside a North East nightclub has had his jail term almost doubled by the Court of Appeal.
Liam Rowbotham, 20, was jailed for four years in June after the February attack in Hartlepool.
His sentence has now been increased to seven years and two months after it was referred by the Attorney General for being "unduly lenient".
Rowbotham's victim, Jamie Hunt, needed surgery for the wounds to his neck.
Rowbotham was originally jailed by Judge George Moorhouse at Teesside Crown Court after pleading guilty to wounding with intent and possession of an offensive weapon.
'Properly punished'
Speaking after the new sentence was imposed, Attorney General Jeremy Wright QC said: "Liam Rowbotham has a violent history.
"On the night of the attack, he deliberately armed himself with a knife and during a fight stabbed his victim, causing him serious injury.
"I referred this case to the Court of Appeal as unduly lenient because the original sentence failed to reflect the seriousness of the attack.
"It is also important that those who inflict violence on our streets and those who carry and use knives are properly punished.
"I am pleased that the Court has today increased his sentence and hope that this gives some reassurance to the public."