Crathorne Hall fire: Yarm hotel badly damaged in blaze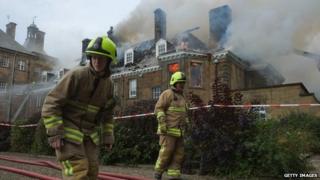 A Grade II-listed hotel in the North East has been badly damaged in a fire.
It ripped through the roof of Crathorne Hall, at Yarm, on Wednesday morning. It took firefighters until about 16:30 BST to bring the blaze under control.
All of the guests and staff were evacuated safely from the site, said Lord Crathorne, who lives in the hotel.
Douglas Wadell, operations director at the hotel, said: "When I saw it without a roof, it was soul-destroying. It's such a beautiful building."
He added: "It's a difficult day for everyone. Everyone is accounted for and nobody is missing."
At its peak, about 100 firefighters worked to stop the blaze spreading from the east wing to the main building.
Crathorne Hall is a popular wedding venue and it is understood events were due to be staged there this weekend.
Richard Hooper, a guest at the hotel, said: "The fire alarm went off and everyone evacuated.
"The staff were all very calm, no-one was running around and there was smoke coming out of the roof, just out of the top of it.
"We were all out in plenty of time."