Jak Parker jailed for Shotton Colliery triple-fatal crash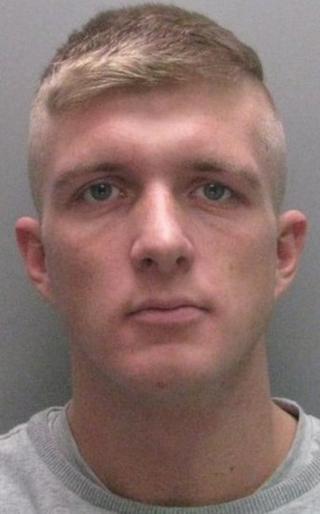 A County Durham street racer involved in two serious crashes in the space of weeks, including one in which three women died, has been jailed.
Jak Parker, 24, "egged on" a woman to race him in Shotton Colliery in June 2013 but she lost control and hit a car, killing herself and two others.
Two weeks earlier a woman was seriously hurt when she was hit by a van Parker was racing.
Parker was jailed for 12-and-a-half years at Teesside Crown Court.
The court heard how Parker was driving his MG ZR car at more than 70mph in a 30mph zone when he overtook a Fiat driven by Rebecca Learoyd, 19.
Having started to race him, she lost control after he had overtaken, and her Fiat hit a Citroen Xsara head-on.
Miss Learoyd, her best friend Megan Robinson, 19, and the driver of the Citroen, 60-year-old Anne Peachey were killed.
Her widower, Joseph Peachey, said in a statement: "It's hard to be strong when the person who gave you your strength is missing.
"I know it is what Anne would want so I have to try."
Parker was jailed for 10 years after he admitted three counts of causing death by dangerous driving, and a further two-and-a-half years for causing serious injury by dangerous driving.
'Shattered lives'
Parker admitted a separate charge of causing serious injury by dangerous driving on 8 June last year.
He was driving the same car and racing a van which struck a pedestrian on a zebra crossing in Wheatley Hill.
Van driver Roy Morrison, 20, from Chester-le-Street, was jailed for three-and-a-half years after he was convicted of causing serious injury by dangerous driving.
Judge Simon Bourne-Arton, said: "By your actions on that day in June, you have shattered the lives of three families.
"Three families who have lost respectively, a daughter, a mother, a wife, a grandmother.
"You may or may not be able to put the events of that day from your mind. They never will.
"The consequences of your actions will remain with them. You deprived them of their loved ones by driving in the most dangerous of fashions."
Evidence from Miss Learoyd's wrecked car showed she had been travelling at up to 77mph, although she had slowed in the seconds before the crash.
The judge said Parker's driving was not the sole cause of the fatal accident, but a "substantial part".
He said that although Miss Learoyd's Fiat had faults, these would not have been a problem if she had not been travelling so fast.
Jacqueline Robinson, Megan's mother, said her daughter was "wonderfully loud and vibrant".
She said: "In our house now there is only sadness."