Redcar Lib Dem choose Josh Mason as election candidate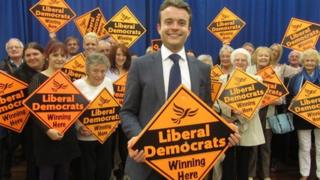 The Liberal Democrats have chosen local councillor Josh Mason to stand as the party's candidate for Redcar at the 2015 General Election.
Current MP Ian Swales announced he is standing down for personal reasons.
He described his successor as an "outstanding talent" with "strong roots" in the area.
Mr Mason currently represents Redcar's Zetland Ward and is deputy leader of the Liberal Democrats on Redcar and Cleveland Borough Council.
He said: "I'm thrilled to have been selected to stand in place of Ian Swales who has been a popular and hardworking MP.
"He will certainly be a hard act to follow but after working with him so closely over the years, I'm well aware of the constituency's needs and feel well equipped to speak up for us locally and in Parliament.
"I grew up here, my family live here and I care deeply about the area's future. I want to be an approachable, hardworking local MP and I will fight as hard as I can to ensure the best for our area."
Mr Swales' 2010 win ousted the sitting Labour MP Vera Baird. The seat had been in Labour's hands since the constituency was created in 1974.
Mr Swales secured the seat with a majority of 5,214 in a swing of nearly 22% from Labour to the Lib Dems.