Retired Billingham couple win £4.5m lottery jackpot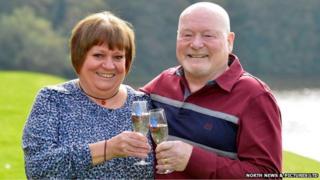 A retired couple from County Durham have won £4.5m on the lottery.
Former welder, Denis Graham, and his wife Mary, a retired health care assistant, won £4,570,887 from a quadruple rollover on Wednesday.
The couple from Billingham, said they were in a "state of shock". They had all six numbers after using the same ones for 20 nearly years.
Mrs Graham said she had been walking around with a "huge smile" on her face since the win.
The couple said they "felt numb" after they initially thought they had won just £25.
Mrs Graham said: "Denis came to tell me we'd won but he was very calm.
"If we'd won the jackpot as he said I'd expect him to be leaping around with delight so I really didn't believe him at first but I think he was just in a state of shock, as was I.
"We decided to share the news of our win as we didn't want to keep it a secret and we want people to know that it's possible for normal hard working people like us to win."
The couple said they are going to share their winnings with their family.