Billingham residents' group in call to abolish town council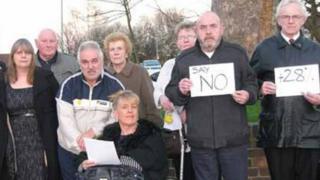 A residents' group on Teesside is calling for a referendum to abolish the town council.
The Association of Billingham Residents claims it does not benefit the community and fails to engage with the public over public spending.
There are also concerns that the precept could rise in the future.
The council leader said he was always willing to listen to residents' concerns and was "bemused and saddened" by the lack of a direct approached.
Kevin Bowler, from the residents' association, said: "They maintain flower beds around the town, provide dog bins, and litter bins etc over and above what Stockton Borough Council provides.
"We think they should be doing more with the £124,000 a year."
'Heck of a rise'
There was also concern over a 24% rise in the precept, on top of 17% the previous year.
Mr Bowler said: "The town council's comeback has been that it's only a few pence, but we say wait a minute, did anyone working get a 24% rise?
"In these times of financial austerity it's a heck of a rise.
"We're very nearly at the numbers we need to bring about a referendum.
"The people of Billingham are telling us they are not happy, and I'm sorry but it's too far gone now."
The leader of the council, Colin Pollard, said: "I am saddened, but also rather bemused, because people don't come and talk to us.
"We are here to listen."
Dianne Rickaby, the town council's executive officer, said: "We'd welcome any comment from the public.
"If there's anything they'd like us to look at, any changes they want doing, we're open to that.
"A referendum would cost the people of Billingham a considerable amount of money.
"Can we not avoid that? Let's put the money to better use."