Middlehaven regeneration: New use sought for Captain Cook pub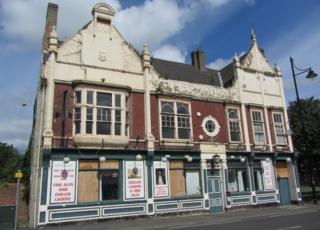 A new use is being sought for a historic Middlesbrough pub that featured in TV series Auf Wiedersehen, Pet, as part of a £200m redevelopment.
The Grade II-listed Captain Cook pub on Durham Street was built in 1893 by local architect Robert Moore.
When it closed in 2010, Middlesbrough Council bought the building as part of the regeneration of Middlehaven.
Councillor Charlie Rooney said it was "vital" its new use reflected its "heritage status and location".
The four-storey building featured on the TV series when the crew used the pub for Oz's wake, before they made it their local while they dismantled the Transporter Bridge.
The council said it was in an "important location" within the regeneration site close to Middlehaven's new £1.4m urban park.
A new commercial or leisure use is being sought for the site, the council said.
Cllr Rooney, said: "We are still keen to hear from potential tenants who have the vision to give this important part of Middlesbrough's history the new lease of life it deserves."
Developers have until 29 September to submit their ideas.
More than £150m is already being invested in Middlehaven, with housing, leisure and business developments in progress.