Haswell race horse badly injured in 'knife attack'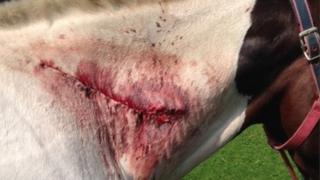 A race horse was left needing 90 stitches after it was slashed through the neck with a blade in County Durham.
Five-year-old harness racer Tommy, who won nine of his 12 races in his debut season last winter, was found in his field in Haswell on Thursday morning.
His owner Alison Cook believes he would have died if he had not been found in time.
The investigating police officer said it was the most "barbaric" incident he has seen in 20 years in the job.
Ms Cook said: "I feel sick, the same should be done to the person who did this to a defenceless animal. I'm not a vicious person, but this is bad.
"The vet could fit her hand and forearm into the wound, the muscle in his neck probably saved his life. If he had been thinner the knife would have gone right through."
Ms Cook and her partner Andrew Blench now face hundreds of pounds in vets bills and have been told it will be a long time before Tommy can race again.
PC Kevin Woodcock said: "I have never come across anything so barbaric in my 20-plus years of police service.
"The wound was horrendous and could not have been the result of an accident.
"We suspect something like a butcher's knife may have been used."