'Pompeii of the North' in County Durham put up for sale by church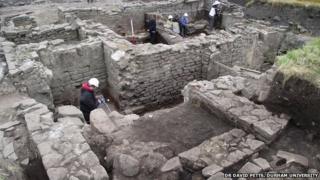 A Roman dig site in County Durham dubbed "the Pompeii of the North" has been put up for sale.
Binchester Roman Town, at Bishop Auckland, has been put on the market by the group managing the Church of England's property portfolio.
Auckland Castle Trust has submitted a £2m offer in a bid to prevent it "falling into the hands of developers".
A number of discoveries have been made at the site, including a bath house and an altar dedicated to a Roman goddess.
'Deep understanding'
One of 10 plots of land put up for sale by the Church Commissioners around Bishop Auckland, it has been separated into two lots.
The trust is bidding to buy both and said its offer is "being considered".
It is currently leased to Durham County Council and the trust fears developers could restrict public access to the site or limit archaeological digs.
Chairman Jonathan Ruffer said: "Binchester must be secured by someone who has a heart for Bishop Auckland and a deep understanding of the site's importance in a national and international context."
Trust chief executive David Ronn warned "the opportunity to bring the whole under one responsible owner and occupier and provide improved access and understanding of the site would be lost" if the sites are sold to different developers.
Dr David Petts, lecturer in archaeology at Durham University, has called Binchester "one of the best preserved Roman archaeological sites in Britain".