EE manager's office kicking case sacking unfair, tribunal rules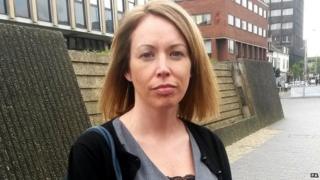 A manager sacked from a call centre after a member of her staff kicked a colleague unconscious was unfairly dismissed, a tribunal has ruled.
Fay Hand was dismissed from EE in Darlington, where she had worked for 17 years, amid accusations of failing to tackle alleged bullying in the office.
The tribunal judge ruled her sacking had been "pre-judged".
Mrs Hand said she fought the sacking to restore her reputation and said the dismissal damaged her career.
The mother-of-two, from Wynyard Village near Stockton, said: "The whole thing was handled so badly, that's why I had to fight it.
"It was 17 years of my life, I loved my job and was devastated when I was dismissed."
Car keys stolen
The tribunal concluded Mrs Hand had an unblemished record and was "clearly a highly-regarded and valued employee".
The hearing was told the member of staff who attacked a colleague had grown angry when a colleague stole his car keys and took a Fifa video game from the car as ransom.
A month later when his security pass was defaced with a permanent marker he "flipped" and kicked his victim at his desk, knocking him unconscious.
The attacker was immediately suspended and the next day came to work with a three-page statement, setting out what had been happening, and claiming the security pass incident was the "last straw".
He claimed his team leader and operations manager Mrs Hand did not take his complaints seriously.
Mundane and repetitive
EE sacked seven employees, including the victim, the kicker, the team leader and Mrs Hand. The firm said she failed to protect the employee and breached its policy on harassment and bullying.
Tribunal judge Mr Johnson wrote that call centre work could be "somewhat mundane and repetitive" and that there were "occasional incidents of banter".
He ruled managers held a wholly inadequate investigation into Mrs Hand's actions and that her dismissal was pre-judged.
Mrs Hand, who has now found new employment, is adamant she missed out on other jobs because of the sacking on her record.
She said: "It did make it much harder to find another job.
"I do believe that while I was speaking to potential employers about the reasons for me leaving EE it was hard for people to appreciate my side of the story."
EE has not responded to BBC requests for a comment.