Middlesbrough mayor praises improving coroner service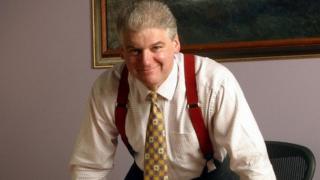 The country's worst coroner service is rapidly improving, according to a mayor.
Middlesbrough mayor Ray Mallon praised acting Teesside Coroner Clare Bailey for turning around the service.
Official figures ranked the service as the worst in the country last year with a backlog of 404 cases and inquests taking almost a year to be completed.
Mr Mallon made the comments as plans to merge Teesside and Hartlepool Coroner's service move forward.
Speaking to Middlesbrough Council's Executive, which has given its backing to the merger, Mr Mallon said the service had already improved greatly since the retirement of previous coroner Michael Sheffield, 80, in April.
'Vast improvements'
Mr Mallon said: "Until recently, for a number of years the coroner's service for the area had been inefficient and ineffective.
"I had numerous meetings with Mr Sheffield and told him in no uncertain terms that I held him responsible.
"I am pleased to say that in recent months the coroner's service has made vast improvements and I am convinced that this is due, in the main, to the work performed by Clare Bailey and [her assistant] Malcolm Donnelly.
"I have spoken to a number of families who have suffered bereavement over the past 12 months or so and all have spoken highly of Clare Bailey and the sensitive and empathetic way she has conducted the inquest process."
A two-year inquiry by the Office for Judicial Complaints concluded no disciplinary action should be taken against Mr Sheffield as it found no evidence he was to blame for the backlog.
The Teesside Coroner's Service covers the Middlesbrough, Redcar and Cleveland and Stockton Council areas while Hartlepool has a separate Coroner's Service which was ranked as one of the best in the country last year.
A detailed business case for the proposed merger will now be submitted to the Lord Chancellor who is expected to make a decision by December.