Robin Williams: Doubtfire author owes 'tremendous debt'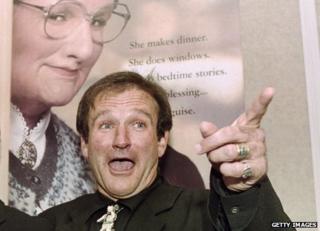 Mrs Doubtfire earned actor Robin Williams a clutch of awards, including a Golden Globe. For the author of the book on which the film was based though, the success it enabled her to enjoy was more than she could have imagined.
Robin Williams' idiosyncratic Scottish nanny was not what Anne Fine had in mind when she wrote Madame Doubtfire in 1987.
Ironically, considering Williams' depression and suicide, the star's portrayal of father Daniel Hilliard was less dark than she intended.
But, the Barnard Castle author accepts "books and films are very different beasts" and says she owes him a "tremendous debt" for the way he played the part.
"Any author is lucky to have that sort of exposure," she says.
"Because that film was such an international success it went all over the world, which meant that the book got translated into languages you wouldn't dream of assuming you would usually get into."
She was invited to Hollywood to watch the filming but did not go. She was busy writing at the time, but also conscious the author is rarely involved in a movie unless, like JK Rowling, they have a degree of control written into their contract.
"It seemed like an awful long way to go just to say hello to people and then be on the sidelines," she says.
She also declined an invitation to appear on the Parkinson chat show with Williams to publicise the film, having a prior engagement to speak to 300 librarians.
"Children's librarians are actually an author's bread and butter so there was no way I was going to just back out of that at the last minute," she said.
---
Mrs and Madame Doubtfire
The book Madame Doubtfire, intended for teenagers, was first published in 1987
The film Mrs Doubtfire was released in 1993
Robin Williams played a separated voice-over artist who dresses up as a Scottish housekeeper to spend more time with his children
The film took $441m (£262m) and won a Golden Globe, an American Comedy Award, a Kids' Choice Award and an MTV Movie Award
---
She arrived home in time to watch the live broadcast and "thank God I wasn't there".
"He was clearly as high as a kite, on either his normal skills or God knows what," she remembers.
"He was talking a blue streak - even Parky never got a word in edgeways."
Convinced she would have been superfluous, sitting on the sofa "convulsed with laughter" but unable to squeeze in a contribution, she has no regrets she never got to meet Williams.
But she is "tremendously grateful" to him.
"Because of him I managed to pay off my mortgage," she says.