EE Darlington call centre kicking case manager 'was scapegoat'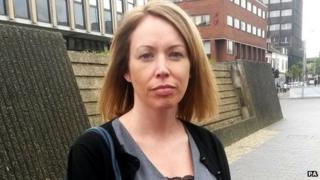 A call centre manager who was sacked by mobile operator EE after a member of her team kicked a colleague unconscious has said she was made a scapegoat.
Fay Hand, 37, was dismissed after the company claimed she did not do enough to tackle bullying and harassment among staff at the office in Darlington.
Seven people were sacked after another manager kicked a colleague at his desk, knocking him unconscious, last October.
Mrs Hand, who worked for the firm for 17 years, is claiming unfair dismissal.
'Almost zero tolerance'
Following the incident in October, the operations manager told bosses he lashed out because "he had been provoked" when colleagues had taken his car keys and removed a computer game from his car.
He said he had been harassed at work and there had been a fake disciplinary hearing about it.
The tribunal, at Teesside Magistrates' Court, heard how Mrs Hand, from Wynyard, near Stockton, delegated the incident to a junior manager to deal with.
However, EE claimed as a senior manager she should have followed up the incident as it had an "almost zero" tolerance of harassment and bullying.
Seven employees were sacked as a result of the incident.
'A dangerous pastime'
John Mitton, representing the claimant, said summary dismissal was "completely disproportionate" and at the "very worst" a final warning should have been issued.
Damian Robson, for EE, told the hearing: "The respondent has identified banter as a dangerous pastime for the business.
"However, no decent employer would want a sterile environment to work within. However, that must be clearly managed.
"The claimant is the person tasked with carefully managing that. She did not."
After the hearing, Mrs Hand wept and said the firm had made her a "scapegoat".
She said: "I put an awful lot of time and effort into that job. I loved it and everyone who worked with me would vouch for that."
Judge Gerald Johnson reserved judgment for two weeks.