Lancaster Bomber's visit to Durham Tees Valley airport sell out in three days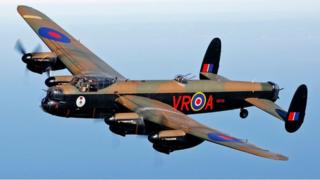 Passes to see one of the last flying Lancaster bombers on its visit to Teesside have sold out within three days.
The Lancaster will visit Durham Tees Valley Airport on 28 August.
It will travel to the UK from its home at the Canadian Warplane Museum in Ontario.
Airport Manager Shaun Woods said he knew the event would be popular but visitor numbers were limited for safety reasons.
The bomber is named after Victoria Cross recipient Andrew Mynarski, who died while trying to rescue a colleague when their plane was shot down on a mission from the then Middleton St George airfield in 1944.
The Lancaster will spend two months touring the UK.
Mr Woods said: "We always believed there would be a lot of people wanting to see the Lancaster and that has been demonstrated by the pace at which people have been booking for passes.
"I expect that some people will be disappointed but I am sure everyone will realise that we have to consider how best to ensure safety and make it an enjoyable day for visitors."