Suspected illegal cigarettes seized in Middlesbrough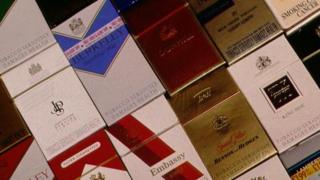 Nearly 20,000 suspected illegal cigarettes have been seized in Middlesbrough.
Inspections were carried out at two shops in the town, with cigarettes and tobacco estimated to be worth more than £10,000 seized.
The operation was led by Middlesbrough Trading Standards, HM Revenue and Customs, Trading Standards Scambusters North East and Cleveland Police.
Illicit tobacco sellers and suppliers have been warned they will be caught.
The premises were targeted as the result of intelligence found through the on-going Operation Henry run by Trading Standards and the HMRC.
A spokesman for Middlesbrough Council said some of the cigarettes, many of which were suspected to be counterfeit or had no tax paid on them, were found hidden under floorboards and in false compartments.
'Nowhere to hide'
Principal trading standards officer Sinead Upton said: "Those tempted to try to profit from this deadly trade need to know that we will continue to work closely with our partners to stamp it out.
"This week's operation shows they really have nowhere to hide."
Edward Kunonga, Middlesbrough Council's director of public health, said: "Illicit tobacco is often available at cheaper prices which makes it easier for non-smokers, especially children and young people, to start smoking and also makes it more difficult for current and ex-smokers to quit the habit."