Ducklings rescued from drain in Middlesbrough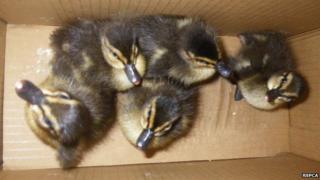 A group of ducklings has been rescued after becoming trapped in a drain in Middlesbrough.
The ducklings were found after "loud cheeping" was heard down a drain near Marton Road in Longlands on Monday.
Police and the fire service helped save the five ducklings by pouring water down the drain to flush them through.
Insp Claire Wilson said the mother duck was frightened away during the rescue, so the birds were taken to a local wildlife centre to be hand reared.