Middlesbrough woman bitten repeatedly by police dog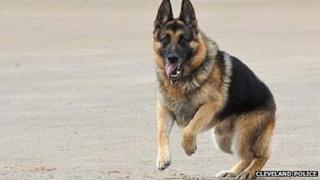 A 73-year-old woman was repeatedly bitten in an attack by a police dog in Middlesbrough.
She was bitten several times about the body by the German shepherd as Cleveland Police searched for a male suspect near Penrith Road on Wednesday.
The woman was taken to the James Cook Hospital, where police described her condition as "poorly".
The dog has been taken off duty and there will a review of its competence to work in the future.
'Unprecedented'
Assistant Chief Constable Sean White said: "Officers were involved in an anti-crime and drugs operation last night that culminated in the stop and search of a car.
"Drugs and cash were recovered and a male was arrested. But another man made off, and it was very sadly that during a search of gardens a member of the public, who was nothing to do with the operation, but was a consenting householder in having her garden searched, was bitten by the dog.
"She has bites about her body and is poorly in hospital.
"We apologise for what has happened. It is unprecedented in my near-30 years as a police officer and is an isolated incident."
The matter has been referred to the Independent Police Complaints Commission.