Danny Wake inquest: Toddler's death 'accidental'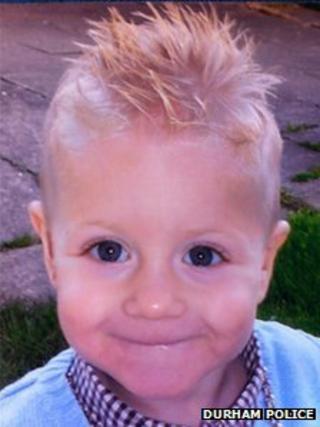 The death of a three-year-old boy who was struck by a vehicle in Darlington was accidental, an inquest has found.
Danny Wake was killed when he was hit as he crossed Falmer Road in the town while walking home at about 10:35 BST on 4 November.
The inquest at Crook Coroners' Court heard police studied hundreds of hours of CCTV footage, but were unable to trace the driver or vehicle involved.
Durham coroner Andrew Tweddle recorded a verdict of accidental death.
Det Supt Kevin Weir, who led the inquiry, told the inquest Danny's mother Kayren Winter had warned her son moments before the collision, after he was nearly knocked over by another car as they walked along Neasham Road.
Danny was dawdling about 32ft (10m) behind his mother and may have panicked when he did not spot that she had turned into Falmer Road, Mr Weir said.
He was hit by an unknown vehicle in the junction of Neasham Road and Falmer Road.
In February, a £3,000 reward was offered by Crimestoppers for the prosecution of the driver.
In the days following the crash, a 24-year-old man was arrested on suspicion of causing death by dangerous driving before being released without charge.
The inquest heard how a father and son sitting in a van outside a sandwich shop saw a vehicle driving off after hitting something, and then realised it had struck a boy.
One of the witnesses thought it had driven over the child, but the pathological evidence did not support that.
Mr Weir said one man told police it was a white van with red markings on it and had been travelling at 15-20mph.
Mr Tweddle said despite the detectives' efforts, exactly what happened was not clear.
He said: "That is not being critical of the police, they seem to have gone the extra mile, not just for me but for Danny's family, so they could have the clearest picture of the circumstances leading to Danny's death."