RSPB Salthome visitors asked to swap cash for carrots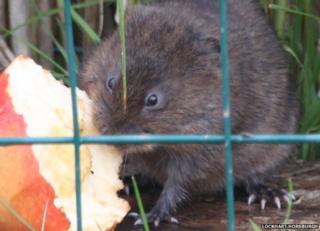 Visitors to a Teesside nature reserve have been invited to swap their cash for carrots and apples.
Instead of paying the £4 entrance fee, visitors are being asked to pay with food for water voles and other small mammals at RSPB Salthome.
After discovering water voles swimming in a ditch, staff encouraged them on to a special viewing platform with "a trail of carrots".
Visitors are now able to come and see the animals at close quarters.
'Drawback'
Dean Heward, assistant warden at the reserve, said: "When we discovered the water voles...I decided to try and tempt them closer to the hide, so that visitors could see them.
"This has taken some time and effort, initially involving trails of sliced carrot.
"However, our small mammal feeding platform is now quite successful.
"A drawback however, is the amount of carrots and apples we are going through."
Mr Heward said visitors could see water voles, bank voles and wood mice from the viewing platform.