Police make arrests at EDL march in Middlesbrough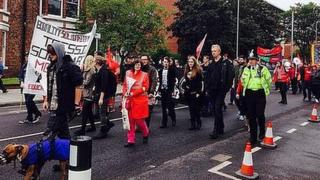 Police made a small number of arrests during rival marches by the English Defence League (EDL) and local anti-fascist groups in Middlesbrough.
About 300 EDL supporters gathered in the town for a march and rally, which had been preceded by a demonstration by about 200 anti-fascist protesters.
Cleveland Police said about 350 officers were on duty.
A force spokesman said a small number of arrests had been made, mainly for public order offences.
The spokesman added: "We would like to thank members of the community and local businesses for their co-operation and patience during the day."