Arrests as police target 'major' UK drugs gang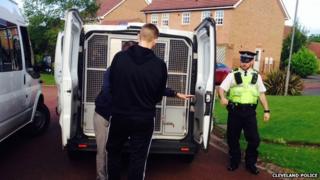 Eleven arrests have been made after police targeted "key members" of a "major" crime gang which they say distributes drugs across the UK.
Four people were arrested in Hartlepool for conspiracy to supply Class A and Class B drugs.
Three further arrests were made at Holme House Prison in Stockton, two in Liverpool and two more in Wales.
Operation Roderigo has seen 15 people jailed following the recovery of drugs worth millions of pounds.
That haul has included 100 litres (22 gallons) of amphetamine oil, which police said has an estimated street value value of £12m, and 11lb (5kg) of "high-purity" cocaine with a street value of £1m.
Also seized was 81lb (37kg) of cannabis with an estimated street value of £55,500, 176lb (80kg) of amphetamine with a street value of £800,000, and 26lb (12kg) of methamphetamine estimated to be worth £120,000.
Police said the "well-resourced" gang operated out of Cleveland and Merseyside and the arrests were the "culmination of over two years of planning by three forces".
Det Sgt Sarah Robinson, of Cleveland Police, said: "The focus of today's operation is to arrest the key members of this group to dismantle their supply of drugs.
"These individuals are involved in the production and distribution of Class A and Class B controlled drugs throughout the UK on a massive scale."