Katrice Lee case: Hoaxer jailed for harassing missing girl's father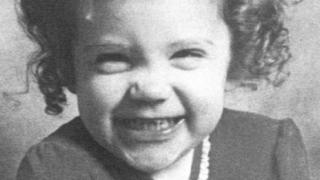 A woman who claimed to be a Hartlepool toddler who went missing in Germany in 1981 has been jailed for harassing the girl's family.
Donna Wright, 34, from West Cornforth, County Durham, broke a restraining order by contacting Katrice Lee's father by telephone.
Two-year-old Katrice went missing from a shop near an Army base in Paderborn.
Wright was jailed for seven weeks at Newton Aycliffe Magistrates' Court after earlier admitting harassment.
Katrice has not been seen since she disappeared in a busy Naafi store near a British army base.
In March 2013, Wright was sentenced to a 12-week jail term, suspended for 18 months, for harassing Katrice's mother Sharon in Gosport, Hampshire, and Katrice's sister Natasha.
She had posted spiteful messages on Facebook after DNA tests proved she was not Katrice.
'Evil person'
Last month she admitted contacting Katrice's father, Richard Lee, in December last year and on several later occasions.
Judge Martin Walker told the court Wright's sentence would have been one of 14 weeks, but this was halved due to the fact that she would lose her accommodation and support system currently in place if the term exceeded eight weeks.
Viv Waugh, mitigating, told the court his client had been diagnosed with bipolar disorder and was undergoing psychiatric treatment.
He added: "She has to accept that what has happened is unfortunate to say the least."
Judge Walker told Wright: "The contact you made was hurtful and caused distress. It was abusive and aggressive."
In a statement read to the court, Katrice's father Richard described Wright as a "thoroughly nasty and evil person".
In December 2012, the family received an apology from the government about the investigation into Katrice's disappearance.
They have campaigned to try to get the original case files released for an independent review.