Yarm people vote to join North Yorkshire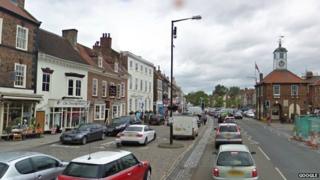 Residents of Yarm have voted for the town to leave Teesside's Stockton Borough Council and join the Hambleton district of North Yorkshire.
The poll of residents on Tuesday was called by the town council and is not legally binding.
About 89% of those who took part supported the idea.
Campaigners claim the borough council has ignored people over issues such as parking and housing. Critics say the proposal is unlikely to be introduced.
Any change to Stockton Borough Council's boundaries would require the unanimous support of Hambleton, North Yorkshire and Stockton councils as well as a review by the Local Government Boundary Commission for England.
Paul Smith, of the Yarm 4 Yorkshire campaign, said residents in the market town did not feel properly represented by Stockton Borough Council and that its "historic roots" were in North Yorkshire.
'Difficult decisions'
Stockton Council said a move to North Yorkshire would not in itself resolve the town's parking and housing issues.
The poll attracted a turnout of 24%, with 1,465 votes in favour of the move to Hambleton and 177 against.
Mr Smith said: "We need a council that is sympathetic to managing market towns, their history and all the good stuff that comes with that.
"But that is exactly the deal we are not getting from Stockton Borough Council.
"We have had 1,000 new homes thrust upon us. We had 4,000 people petition against pay and display parking and their views were not taken into account."
Stockton Council leader Bob Cook said: "Of course, like all councils, there are times when we have to make difficult decisions and we absolutely understand that people have strong views on issues such as parking and on planning applications for new houses.
"But it's a fact of life that all local authorities have to ensure that they have proper parking arrangements in their towns and that they deal with planning applications for new houses in line with the National Planning Policy Framework."
Traditionally, Yarm was part of Yorkshire until the re-organisation of local authority boundaries in the 1970s.
It has a vibrant nightlife as well as an independent school where Olympic gold medal-winning rower Katherine Copeland was a pupil.