Newton Aycliffe stall holders shut up shop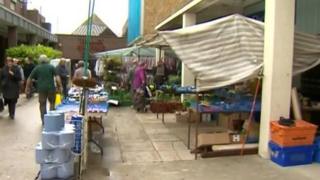 The refurbishment of a County Durham town centre has spelled the end for its weekly market after 40 years.
Stall holders in Newton Aycliffe were given notice to quit after the owner of the site terminated its agreement with Great Aycliffe Town Council.
The council said it would ask Durham County Council for permission to use a derelict area near Greenwell Road on a temporary basis.
Property company Freshwater has declined to comment.
Mandy Owen, who has run a plant stall for 32 years, said: "[The owners] wanted fancy stalls for the new town centre, so we offered to put new sheets in and do the stalls in a nice line, but it made no difference."
'Good service'
Sweet stall owner Neil Herring said: "We're very, very disappointed.
"The market has been here for a number of years. It is our livelihood, it provides a good service for the public, and obviously they are taking that away."
The town council said in a statement: "At the extraordinary meeting held last night, it was unanimously resolved that Durham County Council be requested to allow the temporary use of the vacant and derelict site adjacent to the Cubby until such time as the site is sold off or such time as the town centre private owners facilitate a new market in the town centre, whichever comes first.
"Obviously this may take time to be considered by Durham County Council, and if agreed there will be a number of details, including licences to be entered into between the various parties, as well as site-specific requirements before a market can commence on the site.
"Clearly we will not know what all of these are until we have received [the county council's] requirements."