Yarm people to vote on move to join North Yorkshire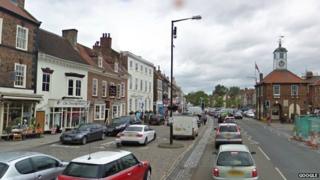 Residents of Yarm are preparing to vote on whether the town should leave Teesside's Stockton Borough Council and join the Hambleton district of North Yorkshire.
The poll of residents on Tuesday has been called by the town council and is not legally binding.
Campaigners have accused the borough council of ignoring people over issues such as parking and housing.
But critics say the proposal has little chance of being introduced.
Any change to Stockton Borough Council's boundaries would require the unanimous support of Hambleton, North Yorkshire and Stockton councils as well as a review by the Local Government Boundary Commission for England.
'Historic roots'
Paul Smith, of the Yarm 4 Yorkshire campaign, said: "We don't feel represented by Stockton Borough Council.
"They've mismanaged Yarm. We feel our historic roots are in North Yorkshire."
But councillor Mark Chatburn, who represents Yarm and Kirklevington for the UK Independence Party, warns a move to Hambleton would not be a "panacea".
"We will be much further away from the administrative centre in Northallerton which could restrict access to services."
The leader of Stockton Borough Council, Labour councillor Bob Cook, said: "All local authorities have to ensure they have proper parking arrangements in their towns and that they deal with planning applications for new houses in line with the National Planning Policy Framework.
"These issues would have to be addressed by whichever local authority had responsibility for Yarm."
Stephanie Richardson, owner of department store Strickland and Holt, believes a switch would help trade.
"People come to visit Yorkshire, look at the guide books, look where to visit and Yarm doesn't occur as it's outside Yorkshire."
There is more on the campaign to return Yarm to Yorkshire in the Sunday Politics programme this Sunday in North Yorkshire and the North East at 11:00 BST on BBC One.