Labour keeps control of Hartlepool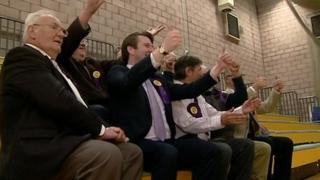 Labour has retained its control over Hartlepool Council, the only one on Teesside where local elections have taken place.
UKIP took two seats, one of which they won by just two votes, which went to four recounts.
One of the seats went to an independent, and another to the Putting Hartlepool First party.
Hartlepool now has 19 Labour councillors, nine Independents, three Conservatives and two UKIP ones.
UKIP councillor Tom Hind said: "People are voting for UKIP this time round because we are a national party with a lot of new and positive ideas."
Councillor Stephen Akers-Belcher, Hartlepool's mayor, said he was delighted with Labour's results.
He said: "I think there's been a lot of national publicity about what was going to happen in Hartlepool, that there was going to be some significant change.
"But it goes in cycles. We've had UKIP local councillors before, we've got them again, and we'll work together as a council."