Endangered fritillary butterflies released in County Durham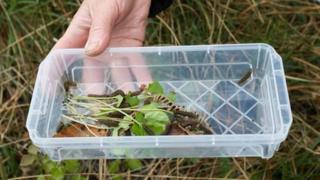 Dozens of caterpillars of endangered butterflies have been released into the countryside as part of a project to preserve them in County Durham.
Durham Wildlife Trust has released forty caterpillars at a secret site near the River Browney.
The small pearl-bordered fritillary butterflies were bred in captivity by the trust.
Heart of Durham Project officer Anne Porter, said there had been "disasters" and "high spots" during the project.
The caterpillars will now start the process of turning into pupas, the trust said.
'Nibbled leaves'
Small pearl-bordered fritillary butterflies only survive in small numbers in County Durham - in 2006, there were only six known colonies in the area.
Ms Porter said: "The first year was quite literally a complete wash out. The very wet and cold summer of 2012 meant that few of the caterpillars survived.
"Luckily the winter just gone was mild and at the beginning of April the first signs of nibbled leaves were detected.
"As more of the Low Barns caterpillars get to an optimal size, prior to pupation, they will be released into clumps of marsh violets on the same site as the first 40."
The project has planted more than 6,000 marsh violets, the food plant for the caterpillars in sites in County Durham.
The trust said that over the next few years, the butterfly will also be introduced onto sites in the west of the county.