Middlesbrough James Cook Hospital railway station opens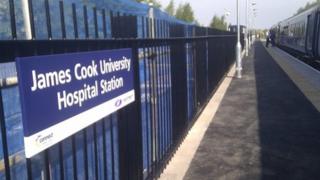 A railway station serving a hospital has become fully open to passengers.
Up to 17 Northern Rail trains on the Esk Valley line will call at the new stop for James Cook University Hospital in Middlesbrough.
It follows a successful funding bid from the Department for Transport by the local enterprise partnership, Tees Valley Unlimited.
Middlesbrough Council said it filled a critical gap in the local service and would benefit the surrounding area.
Jill Moulton, from South Tees Hospitals NHS Foundation Trust, said: "Having the option of the train will be a benefit to patients, visitors and staff by offering an extra choice of how they get to the hospital.
"We hope it will reduce congestion and make the site a better place for everyone."