Shafts of Light: Bowes Museum showcases miners' art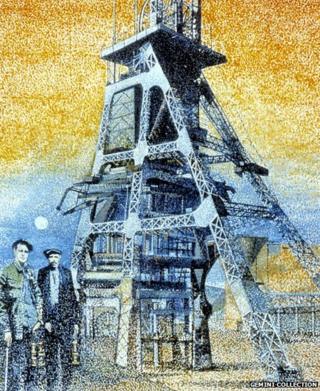 Life down the mines through the eyes of the men who worked there is the subject of a new exhibition in County Durham.
"Shafts of Light; Mining Art in the Great Northern Coalfield" showcases a lesser-known legacy of the industry - artworks by the colliers themselves.
Many of the works on display at the Bowes Museum are from the Gemini Collection, which was put together by Dr Robert McManners and Gillian Wales.
The pair, who are curating the exhibition, became interested in the subject after meeting artist Tom McGuinness - Dr McManners as a GP and Ms Wales as his local librarian.
They began cataloguing his works, which led to a biography and then to broader research, and a book.
'Size of leeks'
Dr McManners said: "We unearthed, in a manner of speaking, about 70 mining artists.
"Most of this work had never been recorded, although other aspects of colliery life had been well-documented, from the size of their leeks to the speed of their whippets.
"There was a danger that this important aspect of coalfield heritage would be lost from living memory."
So why would someone who, in Dr McManners words, "spent hours in a stinking black hole" want to go home and draw or paint it?
Historically, in England, miners were people who conveyed coal from beneath the ground to the hearth.
However, on the Continent they had a more heroic image as the noble toiler against mother earth, and were often depicted as such in 19th Century European art.
With no similar tradition in England, the terrible working conditions of the collier were hidden from public gaze.
Even mine owners did not go underground.
Dr McManners said: "Some felt they had a story to tell which hadn't been listened to. And who better to tell it."
Pictures have also played a part in changing the law. Until the passing of the 1842 Mines and Colliery Act women and young children were employed underground.
In the run-up to the act a series of illustrations was commissioned, as even those parliamentarians who were pit owners were unaware of their employees working conditions.
Dr McManners said that it is not known who was responsible for the drawings, but they helped improve life for miners.
Some of the pictures in the Bowes Museum exhibition have only recently come to light, and Dr McManners believes that one of the reasons was because the artists were putting their feelings down on canvas for themselves, not for exhibition.
"It was a real case of art for art's sake", he said.
"I also have a strong impression that men who did art were seen as sissies, so they did not publicise what they did.
"However, once people realised what we were trying to do it was wonderful how readily they talked, and we located a number of pictures.
"Some were rescued from very tenuous situations.
"People had just shoved them in drawers, or under beds. One was filing a gap in a broken garage window, another was used as a bleezer [to waft a fire to life]."
"Some were primitive, some naive, but all were honest and told a story."
The Shafts of Light exhibition will be at the Bowes Museum from 17 May to 21 September.