Greatham Creek bird reserve 'race against time'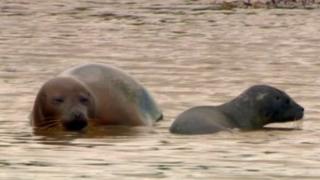 Work on a Teesside bird reserve must be completed quickly in a "race against time", the Environment Agency has said.
Preparations for a new area of salt marsh and mudflat at Greatham Creek on the Tees Estuary must finish before the seal pupping season starts in June.
The £4.6m scheme will compensate for the loss of natural habitat caused by coastal flood defences in the area, the agency added.
Environmental advisor Bruce Munro said any delay would halt work until August.
A flood embankment needs to be breached to allow the tide from the estuary to wash in and out of a specially created area between new flood banks further inland.
"We have quite a tight timescale to ensure all the preparation work is completed before we breach the bank," Mr Munro said.
"We must ensure that the breeding seal colony at Greatham Creek is not disturbed, so if we are delayed by bad weather, we may not be able to finish the work until after the breeding season in August."