Cramlington boy threatens pupils with knife in school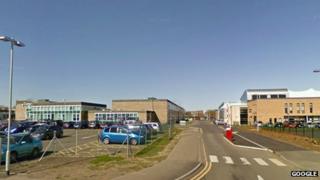 A 14-year-boy who threatened two other pupils with a knife in school has been disciplined.
He made the threats during a cookery class at Cramlington Learning Village on Tuesday, Northumbria Police said.
No physical assault took place, a spokesman said.
The incident has been dealt with by the school under normal discipline procedures. However, two parents reported the matter to police.
"Officers have also spoken to a deputy head teacher and are satisfied the school has dealt with this particular incident in an appropriate and proportionate way and that positive action has been taken by the school in relation to the pupil involved," a force spokesman said.
"We will be contacting the parents of the two children involved to discuss any concerns they may have with the way this incident has been dealt with."
No-one at the school could be reached for comment.