Middlesbrough Labour row: deselected councillors quit party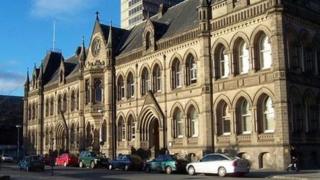 Five councillors who were deselected as Labour candidates for the 2015 local election have resigned from the party.
John McPartland, Len Junier, Pervaz Khan, Sajaad Khan and Derek Loughborough are all councillors in Middlesbrough.
Mr McPartland and Mr Junier said they had lost faith in the party's local leadership.
Middlesbrough Council's Labour group leader Charlie Rooney said he was "disappointed" by their decision.
The five councillors were deselected in March from a list of approved candidates for next year's local elections. They appealed against the decision, but were unsuccessful.
Pervaz Khan and Mr Loughborough were suspended last year over claims they had broken rules around recruiting people to the party, but their suspensions were lifted after an investigation.
Mr Junier said: "There was no real evidence produced as to why we were deselected. I've done nothing wrong whatsoever."
He said their positions were now "untenable".
Could lose majority
Mr Rooney said: "We are disappointed but not at all surprised at the decision of this group of councillors.
"Labour conducted a fair and rigorous selection procedure and appeals process."
Mr Rooney said the Labour Group now had "a strong panel of candidates and we look forward to fighting for a better future for Middlesbrough".
Mr McPartland and Mr Junier told the BBC they were continuing as independent councillors and intended to stand in next year's local election.
"Nationally, regionally, I will always support the Labour Party. I just cannot support this local cabal that's taken control in Middlesbrough and made it unworthy," Mr Junier said.
Mr McPartland said he "could no longer work" with the local Labour leadership.
Middlesbrough Council is led by an independent mayor, Ray Mallon, with a mainly Labour executive.
Labour now has a majority of just one in the overall number of elected members.
"If one more person leaves the Labour group this week or next week, and I'm pretty sure they will, Middlesbrough will go into no overall control," Mr Junier said.