MP Blenkinsop: 'Deregulated taxi firms could discriminate'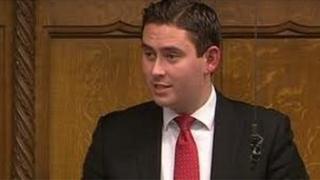 An MP has warned proposed deregulation of taxis could allow firms to discriminate against disabled people.
If implemented, the changes will mean less frequent licence reviews and will allow firms to send work to rivals.
Labour MP for Middlesbrough South and East Cleveland, Tom Blenkinsop, said Teesside firm Boro Taxis had planned to stop picking up people in wheelchairs.
The firm argued it was not economically viable to charge the same rate, but reversed its decision after an outcry.
Boro Taxis had announced it would no longer pick up people with wheelchairs in January, after the council told firms they could no longer charge higher fares for disabled people.
The government has said deregulation would make life easier for both drivers and passengers.
Disabled could suffer
Mr Blenkinsop told the House of Commons: "The fact that it was even a proposal in the first place, I fear, shows an unwelcome eagerness to treat disabled passengers as liabilities rather than as valued customers.
"That's my main fear about the proposed deregulation to the trade, that this would be a practice that becomes more common."
A spokesman for Boro Taxis said the firm was now one of the leading companies in the UK in terms of provision for disabled passengers.
He added: "We don't mind MPs raising the issue in Parliament but invite them to look at the far-sighted provision we have made, in order that they have all the contemporary facts."
The proposed changes are part of the government's Deregulation Bill.
Transport Minister Stephen Hammond said the government hoped to implement the measures "in a way that removes burdens, but ensures safety is still paramount".