Yarm car parking charges come into force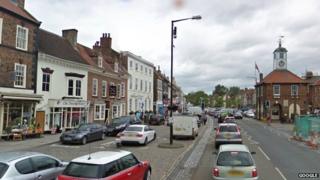 Parking charges have come into force in a Teesside town more than three years since first being proposed.
The first hour of parking on Yarm's High Street will be free, but it will cost £1 for the following two hours and then £1 per subsequent hour between 09:00 and 17:00, Monday to Saturday.
Stockton Council says it will help cater for the needs of shoppers and businesses.
But some traders fear it could drive people away from the town.
'Hassle'
Councillor Mike Smith, Cabinet member for regeneration and transport, said: "The overall aim is to provide a range of parking options to balance the needs of residents, businesses and visitors and, of course, to manage the congestion."
The council will review the system after 12 months.
But retail analyst Graham Soult said: "When you have a high street like Yarm that is so successful and widely regarded as one of the best high streets in the north of England, it's risky when you start to put some kind of barrier that makes people think, 'it's a hassle to go there, I'll go somewhere else'."
The council agreed in principle in December 2010 to charge for parking and the plan was approved a year later.
But in March 2012 a judicial review, subsequently dismissed by the High Court, was granted.
The new system replaces a limit of two hours' free parking.