Billingham rubbish-to-energy plant construction begins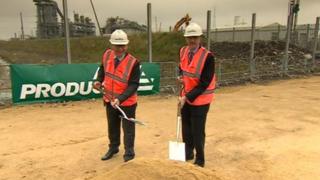 The start of construction work on a renewable energy plant at Billingham, Teesside, has been marked by a ground breaking ceremony.
Air Products said that the factory, which will turn landfill waste into energy, will create about 700 jobs whilst it is being built.
A further 50 workers will be taken on once the plant is up and running.
The plant will burn about 350,000 tonnes of municipal and commercial waste every year, Air Products said.
Cabinet Office minister Francis Maude was among those attending the ceremony.