Archbishop painting goes on display at Auckland Castle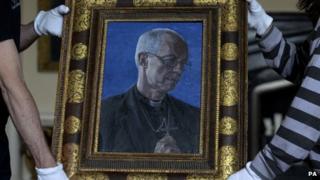 The first portrait of the Archbishop of Canterbury has gone on display in a County Durham castle.
The painting of the Most Rev Justin Welby has been hung alongside artwork covering 500 years of church history in Auckland Castle.
Commissioned for the castle, the portrait of the former Bishop of Durham was painted by artist Roger Wagner.
The archbishop said he was "grateful" to be alongside "such distinguished company" in the Throne Room.
In the picture he is seen holding one of the crosses made of medieval nails salvaged from the roof of Coventry Cathedral after its destruction in World War Two and presented to him when he was canon there.
Chris Ferguson, head curator at Auckland Castle said it carries on a "long and noble tradition" of portraits of the bishops of Durham being commissioned for the castle.
The painting will be the 40th of previous bishops of Durham at the castle, 24 of which are on display in the Throne Room.